Bharatpur is also home to one of the world's best-known bird watching destinations, Keoladeo Ghana National Park (KNP). 250 years ago, the then ruler built embankments that allowed flooding of this land, turning it into a marsh. Named after the dense jungle that surrounded an old Shiva Temple, this 29 square kilometre man-made wetland is renowned for migratory birds – ducks, geese, waders, raptors, flycatchers and more. In winter, avid birders and ornithologists flock to the park to observe and study the feathered beauties. With more than 370 recorded species, KNP used to also host the Siberian crane. It is a World Heritage Site.
KEOLADEO GHANA NATIONAL PARK
Formerly known as the Bharatpur Bird Sanctuary, the Keoladeo National Park is recognised as one of the world's most important bird breeding and feeding grounds. It originated in as a royal hunting reserve during the 1850s and was a game reserve for Maharajas and the British. In fact, Lord Linlithgow, Viceroy of India from 1936 to 1943, shot over thousands of ducks with his hunting party in a single day! In 1982, Keoladeo was declared a national park and then later listed as a World Heritage Site by UNESCO in 1985. The park is home to over 370 species of birds and animals such as the basking python, painted storks, deer, nilgai and more. Keoladeo National Park offers well-defined treks which can be covered on either foot, or cycle or rickshaws. In fact, the park management has trained the rickshaw pullers in bird watching and they make for extremely knowledgeable guides.
This temple is dedicated to Laxman, brother of Lord Rama, and is famous for its typical Rajasthani style of architecture and beautiful pink stonework. Visitors will enjoy the intricate carvings of flowers and birds on doorways, ceilings, pillars, walls and arches.
Deeg is a beautiful garden town situated north of Bharatpur. It has many embellished palaces that add to the beauty of the place. Known for its forts, palaces, gardens and fountains, the highlight of Deeg is an impressive fort surrounded by moats and gateways. It was built by Raja Suraj Mal and stands over a slightly elevated point. Although the interiors are almost in ruins, the watch tower containing a gun still maintains watch over the city.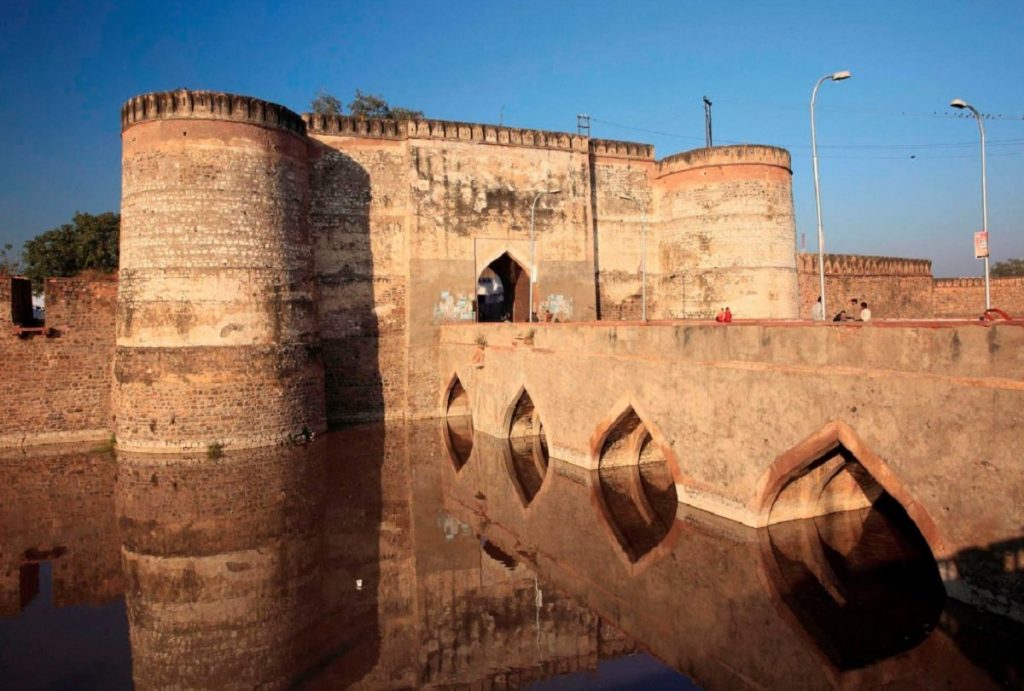 True to its name, Lohagarh Fort has withstood many attacks by the British, but was ultimately captured by Arthur Wellesley. Where Lohagarh Fort differs from others is that it is not flamboyant, but radiates an aura of rugged strength. The fort is surrounded by a moat which used to be filled with water to keep enemies out. Interesting monuments inside the fort are Kothi Khas, Mahal Khas, Moti Mahal and Kishori Mahal. Raja Suraj Mal built Jawahar Bhurj and Fateh Bhurj to commemorate victories over the Mughals and the British.