It is popularly believed that Nobel laureate Rudyard Kipling penned part of his famous novel 'Kim' in Bundi. In fact, so impressed was he by the place, that this is what he wrote about the Bundi palace: 'Jaipur Palace may be called the Versailles of India … Jodhpur's House of strife, gray towers on red rock, is the work of giants, but the Palace of Bundi, even in broad daylight, is such a palace as men build for themselves in uneasy dreams – the work of goblins rather than of men.'

Bundi is a magnificent town located around 36 Kms from Kota. Dotted with palaces and forts, the place has a fairy tale quality about it. Bundi's charm lies in its location –surrounded by orchards of orange, guava, pomegranate and mango trees, flanked by the Aravalli range and rivers and lined by fields of cotton, barley and wheat. Situated far from the crowds, it is the simple rural folk that lend Bundi its allure.

Bundi was once ruled by the Hada Chauhans. Many historians claim that it was once the capital of the great Hadoti Kingdom, which was renowned for its art and sculpture. However, in 1624, Kota separated and became an independent state and this marked the beginning of the downfall of Bundi. Whether that may be, Bundi still retains its charismatic medieval grandeur. And just like Jodhpur and Rajput, the architecture of Bundi also possesses a noticeable bluish hue, designed to keep houses cool during hot summer, in the intricately carved brackets and pillars.
Sukh Mahal, a small, two-storied palace was a summer retreat of past rulers. Today, it is quite famous for being the place where Kipling wrote 'Kim'. Many credit the palace as a having played muse to the renowned novel. In fact, part of a movie based on the novel was even shot here.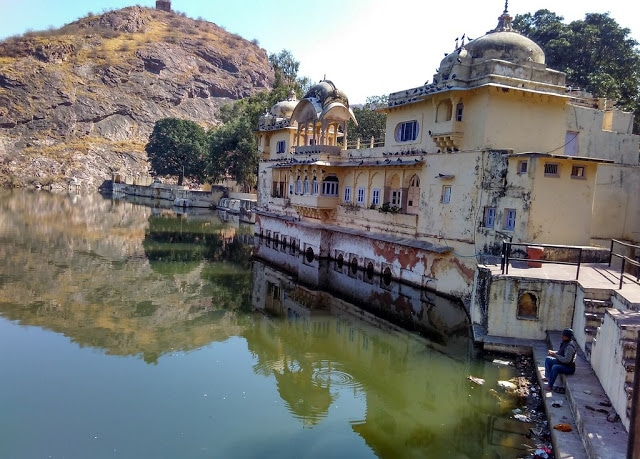 Raniji ki Baori, also known as 'Queen's Stepwell', is a famous stepwell built in 1699 by Rani Nathavati Ji, the younger queen of the ruling king Rao Raja Anirudh Singh of Bundi. This multi-storied stepwell displays excellent carvings of Gajraj with his trunk turned inwards, giving the impression of having drunk from the baori on its pillars. Its high arched gate gives it an inviting appearance.
Shaped like an inverted pyramid, the Dabhai Kund, also known as Jail Kund, is the largest of its kind in Bundi. The fantastic carvings on the steps that lead to the water alone are reason enough to warrant a visit.
Built in 1345, Taragarh is one of the most impressive structures in Bundi. While it may be a bit ramshackle and strewn with overgrown vegetation, the palace grounds are a great place for a leisurely stroll. With its curved roofs topping pavilions, excess of temple columns and elephant and lotus motifs, the palace is a tribute to Rajput style.
Located outside the Chauhan Gate, the Nagar Sagar Kund, a set of twin step wells, was constructed to provide water during times of famine.
Nawal Sagar Lake is an artificial lake that is a major tourist attraction and can even be seen from the Taragarh Fort. There is a half-submerged temple dedicated to Lord Varun Dev in its centre. What makes the lake unique is that one can see the reflection of nearby palaces and forts in its waters.