Window to the snow-crested Trishul, Nanda Devi, Nandakot and Panchchuli peaks, there are very few places in the Himalayas whose beauty can be compared to that of Kausani - a picturesque hill station famous for its scenic splendor and its spectacular 300 km-wide panoramic view of the Himalayas.

With a total area of 5.2 sq. km, situated at a height of 1890 m above sea level, located 51 km north of Almora, Kausani is the birthplace of famous Hindi poet Sumitra Nandan Pant, who wrote some of his memorable poems in praise of this paradise on earth. In 1929, Mahatma Gandhi stayed here for 14 days at the Anasakti Ashram while scripting his book titled 'Anasakti Yoga' and was greatly impressed by its environs.The town is accessible all year round. For those who wish to avoid the cold, the best season is between April to June and again between September to November. Summer months will require light woollen clothing and winter- heavy woollen clothes.

Far from the maddening crowd, Kausani is a calm and idyllic resort. One just has walk down the hills amidst dense forests or trek around to reach the highest points of the hills, Pinnath (5 kms), Burapinnath (5.5 kms) and Bhatkot (12 kms). Enjoy a relaxing day and get wonderstruck by the starry nights.

BEST TIME TO VISIT
Kausani experiences a moderate climate. Summers (March - May) are pleasant with a maximum temperature 25°C and a minimum of 11°C. During winters the maximum temperature is 15°C and the minimum comes down as low as 2°C. Winters are accompanied with heavy snowing. Monsoons (June - August) makes the hilly regions slippery and have medium rainfalls.

Best period to trek in Kausani is post monsoons, post winters and summer. During this period clear views of meadows, waterfalls and pine forests in the trekking route are assured.

Best time to visit Kausani is from September to May.
Refresh the memories of 1929, when Mahatma Gandhi, spent here 14 days while writing his book on 'Anasakti Yoga'. His spinning wheel (Charkha) and other memorabilia are kept here. There is also a study with a small library where one can find books on Gandhian philosophy. The Ashram can accommodate up to 300 people and every evening prayer is conducted in the main hall. One can enjoy mesmerizing sunset and sunrise from the Ashram premises.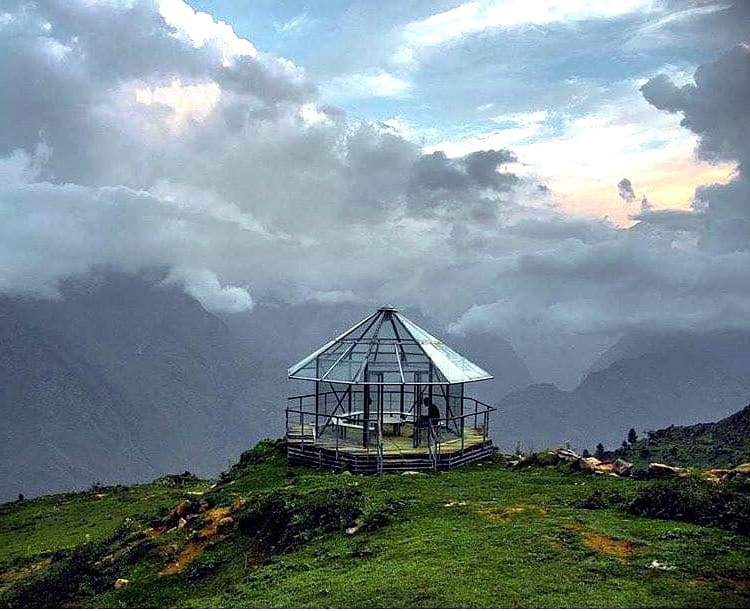 A fabulous collection of high quality woollen shawls, exquisitely designed by the local weavers, can be purchased from here.
Named after the famous Hindi poet, Sumitra Nandan Pant, who was born in Kausani, the Museum has the articles of his daily use, drafts of his poems, letters, his awards etc. This Museum is at a short distance from the Kausani bus terminal.
Most important historical place in Uttarakhand, situated at a height of 1126 meters above sea level on the banks of River Gomti. It is 19 kms from Kausani towards Bageshwar. Main attractions are the 12th century old temples of Shiva, Ganesh, Parvati, Chandika, Kuber, Surya and Brahama with beautiful carvings and sculptures.
Known for its caves and rock paintings.
40 kms away from Kausani, on the confluence of rivers Saryu and Gomti lies the holy township of Bageshwar, an important centre of worship of Lord Shiva. According to Hindu scriptures, the sage Markandaya lived here and spent many years worshipping Lord Shiva.

This is also the place from where one can start his journey towards Pindari, Sunderdunga and Kafni glaciers.
87 kms from Kausani, a picturesque tourist spot amidst mighty Himalayan peaks.