Diverse in topography, the district of Pauri Garhwal varies from the foothills of the Tarai of Kotdwar to the soul-lifting meadows of Dhanaulti, sprawling at an altitude of 3,000 m, which remains snowbound during the winter months. Pauri Garhwal is surrounded by the districts of Chamoli, Nainital, Bijnor, Haridwar, Dehradun, Rudraprayag and Tehri Garhwal. Filled with places of tourist's interest, most locations in Pauri offer a breathtaking view of the snow-laden Himalayan splendour.

Pauri City Is situated at an elevation of 1814 m above sea-level on the northern slopes of Kandoliya hills, Pauri is the headquarter of the district Pauri Garhwal and the Garhwal Division. Pauri provides a panoramic view of the snow clad Himalayan peaks of Bander Punchh, Swarga-Rohini, Jonli, Gangotri Group, Jogin Group, Thalaiya-Sagar, Kedarnath, Kharcha Kund, Sumeru, Satopanth, Chaukhamba, Neelkanth, Ghoriparvat, Hathiparvat, Nandadevi and Trisul.

BEST TIME TO VISIT
The climate of Pauri is characterized by cold winters and pleasant summers. Summers during March to June are pretty enjoyable in Pauri with pleasant climate and winters during December to February are extremely cold with minimum temperature falls subzero level. Snowfalls through out winters are a spectacular characteristic of Pauri.

Celebrations associated with Maha Shivarathri during February - March are very attractive and are conducted with much devotion and enthusiasm.

Best season to visit Pauri is March to November avoiding freezing winters.
The snow-covered mountains of Khirsu offer a panoramic view of the Central Himalayas and attract a large number of tourists. From here one can get a clear view of many named and unnamed peaks. Located 19 km away from Pauri at an altitude of 1,700 m, Khirsu is a peaceful spot, free from pollution. The tranquility of the adjoining thick oak and deodar forests and apple orchards is broken only by the chirping of birds. The ancient temple of Ghandiyal Devta, in the vicinity, is worth a visit. Accommodation is available at the Tourist Rest House and Forest Rest House.
Situated at an altitude of 3100 m, Doodhatoli is covered with dense mixed forests. Thalisain is the last bus terminus (100 km from Pauri), from where Doodhatoli is at a distance of 24 km by trek. One of the most picturesque places, it commands a panoramic view of the Himalayan ranges and the surrounding areas. The indomitable freedom fighter of Garhwal, Veer Chandra Singh Garwali, was enamoured by the place. As was his last wish, a memorial in his name has been erected here after his death. A humble but bold memorial in his name creates a 'never say die' atmosphere under the tall oak trees.
It is one of the well known religious places of the entire division and a large number of devotees come here round the year for darshan. It is 34 km from Pauri on the main Pauri-Kotdwar road. Every year during 'Navratras', a special religious festival is held at Jwalpadevi.
Connected by a well maintained 17 km long road from Pauri, Adwani is an ideal picnic spot, as it is surrounded by thick forests and devoid of the hustle and bustle of the town. There is a Forest Rest House one can stay in.
22 km away from Kotdwar and at a height of 1,400 m, Bharatnagar abounds in immense natural beauty. It is mentioned in the ancient Hindu texts that once this place was full of life giving herbs. From here one can have a beautiful view of the Balawali bridge on Ganga, Kalagarh dam and Kotdwar.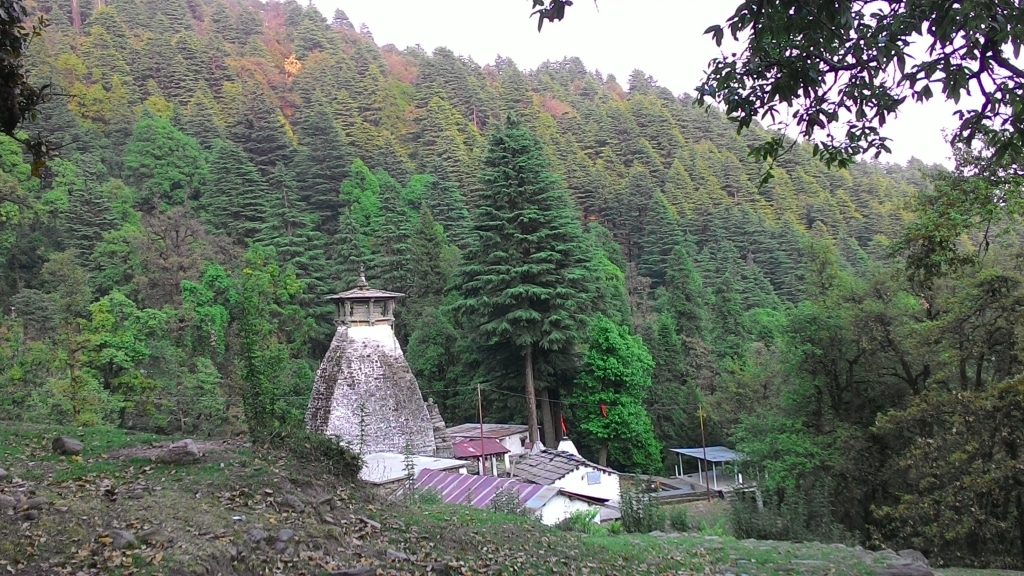 Binsar is situated at an altitude of 2480 m and is at a distance of 114 km from Pauri. Set amidst dense forests of oak, deodar and rhododendron, it is a celebrated place of worship. The temple dedicated to Lord Shiva is of archaeological significance. The central hall of the temple is beautifully adorned by the idols of Ganesh, Har Gauri and Mardini. Thalisain, 100 km from Pauri, is the last bus stop. From here a 22 km bridle path leads one to Binsar.
Just 32 km from Rishikesh via the Barrage and 22 km via Ram Jhoola, this place abounds in religious fervour, mythological significance and picturesque surroundings. According to a legend, this place derived its name from Lord Shiva. It is believed that it was here that Lord Shiva consumed the venom which came out of the ocean during the 'Samudra Manthan'; due to this his throat became blue, thus giving Shiva the name of Neelkanth. Centuries old temples here, reserve in their folds the celestial aura and legendary ambience. At 926 m, amidst three valleys (Vishnukoot, Brahmakoot and Manikoot), and on the confluence of Madhumati and Pankaja rivers awaits Neelkanth Mahadev. Neelkanth Mahadev is 22 km from Swargashram. The 12 km trek is surrounded by dense forests - a sight every trekker would love to behold.
Situated at a height of 2,200 m, Tara Kund is a picturesque spot amidst lofty mountains in the Chariserh development area. A small lake and an ancient temple adorn the place. The Teej Festival is celebrated with gaiety when the local people come here to worship and pay homage to God.
Situated at a distance of 48 km from Kotdwar, Kalagarh is an ideal place for nature lovers. The dam across Ram Ganga River is also worth visiting. Accommodation is available at the Irrigation and Forest Rest Houses.
Chila Wildlife Sanctuary, a heaven for animal watchers is just 8 km from Haridwar and 21 km from Risikesh. Located on the banks of river Ganga, in the heart of Shivalik Hills, Chila is a part of the famous Rajaji National Park. The fauna include elephants, spotted deer, stag deer, neelgai bull, wild beer, fox, porcupine, jungle fowls and peacocks. Besides these, migratory birds are also seen on the river Ganga. There is a Tourist Rest House in addition to a Forest Rest House.
Situated at a distance of 14 km from Kotdwar, Kanvashram is an important place from the historical and archaeological point of view. It is believed that Sage Vishwamitra meditated here. Indra, the King of sub Gods, was scared by his intense meditation. So he sent a beautiful heavenly damsel named Menaka to disturb him. Menaka finally succeeded in diverting Vishwamitra's attention. After giving birth to a girl she went back to heaven. The girl later became Shakuntala who got married to the Prince of Hastinapur and gave birth to Bhrat, the prince after whom our country is named. Accommodation is available at tourist complex, Kanvashram.