Tungnath offers something to every one, be it a hardcore devotee or an ardent nature lover or adventurous lots. A mountain in the Chamoli district of Uttarakhand, Tunganath is an enchanting location where the nature is fabulously adorned with pictorial vistas. Renowned as one of the Panch Kedars, this rocky terrain boasts of the obeisance of Shiva, the destroyer lord.

As a part of the mystical Garhwal region, Tunganath conjure up the profiles of legendary tales and abundant beauty. It is believed that it was here at Tungnath that the hands of Lord Shiva came in to rest while he tried to peter out from the Pandavas. And it is also believed that the present temple is built by the Pandavas to appease the Lord. The place boast of a serene and devout ambience where one can feel the presence of the almighty.

Along with its profound divinity, Tungnath is all set to fascinate the visitors with its fascinating and idyllic surroundings. A delightful haven for trekkers, this place unravels the unparalleled beauty of the Gharwal countryside. One would be exhilarated with the exciting scenery of a gushing cascade, which looks as if it were come down directly from the heaven.

Though the trekking route is covered with brawny stones, the marvelous view of the highly embellished meandering pastures makes ones trek an awe inspiring one. As the trek progresses the meadows would make their way to pink, white and mauve Rhododendrons.

BEST TIME TO VISIT
Tunganath has a cool climate all through the seasons.

Summers (April to August) are very pleasant with moderate climate, with average around 16°C. Summers is ideal for all sight seeing, temple visit and also for visiting nearby attractions.

Monsoons (September to November) are accompanied with scanty rains. This period is good for sight seeing as the hilly panoramic views are very attractive in rains.

Winters (December to March) are chilly days with average minimum touching near 4°C. Minimum can touch sub zero levels. Snow falling seen during winters.

The best season to visit Tunganath is from April to November.

April to August offers cool and pleasant climate and the right period to spend relaxing moments in the outdoors and is ideal for temple visits. September to November is good for sight seeing and temple visits. December to March is snow bound and chilly.
Chopta is situated on Gopeshwar-Ukhimath road at an altitude of 2900 mts. It is about 4 km far from Tungnath and is the main place for trekking to Tungnath.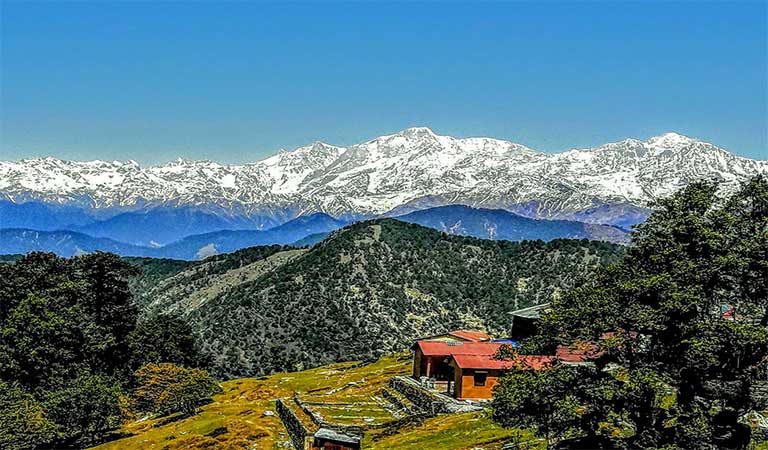 At an Altitude of 2387mts, Deoria Lake is situated on Ukhimath-Chopta road. The lake is surrounded by snow covered hills of Chaukhamba range. Deoria Lake is an attraction for trek-lovers and for one who loves camping.
Kanchula Korak Musk Deer Sanctuary
Kanchula Korak Musk Deer Sanctuary is a dense forest, situated around 7 km from Chopta. The sanctuary is spread over 6 square kilometres.